LONDON – Just hours following an incident in the Baltic Sea involving a Cessna 551 Citation II, a DHC-3 Otter has crashed in Washington state's Puget Sound region with 10 souls onboard. It is now understood that one person has been found dead, and nine still remain missing.
As It Happened:
---
21:50 UTC – The privately owned DHC-3 Otter float plane departed Friday Harbor showing an intended destination of Port Townsend WA.
---
22:07 UTC – The aircraft, registered N725TH, appears to make a sharp decent towards the Bay, indicating a descent rate of around -7744 feet per minute
Tweeted initially by JAKE WELTY (@avgeekjake) on September 4, 2022.
"Appears to be N725TH, a DeHavilland Canada DHC-3 Otter. Final moments of @flightradar24 data show a fluctuation of altitude/speed, from 700ft/127kts to 700ft/80kts and a shocking -7744 feet/min descent rate."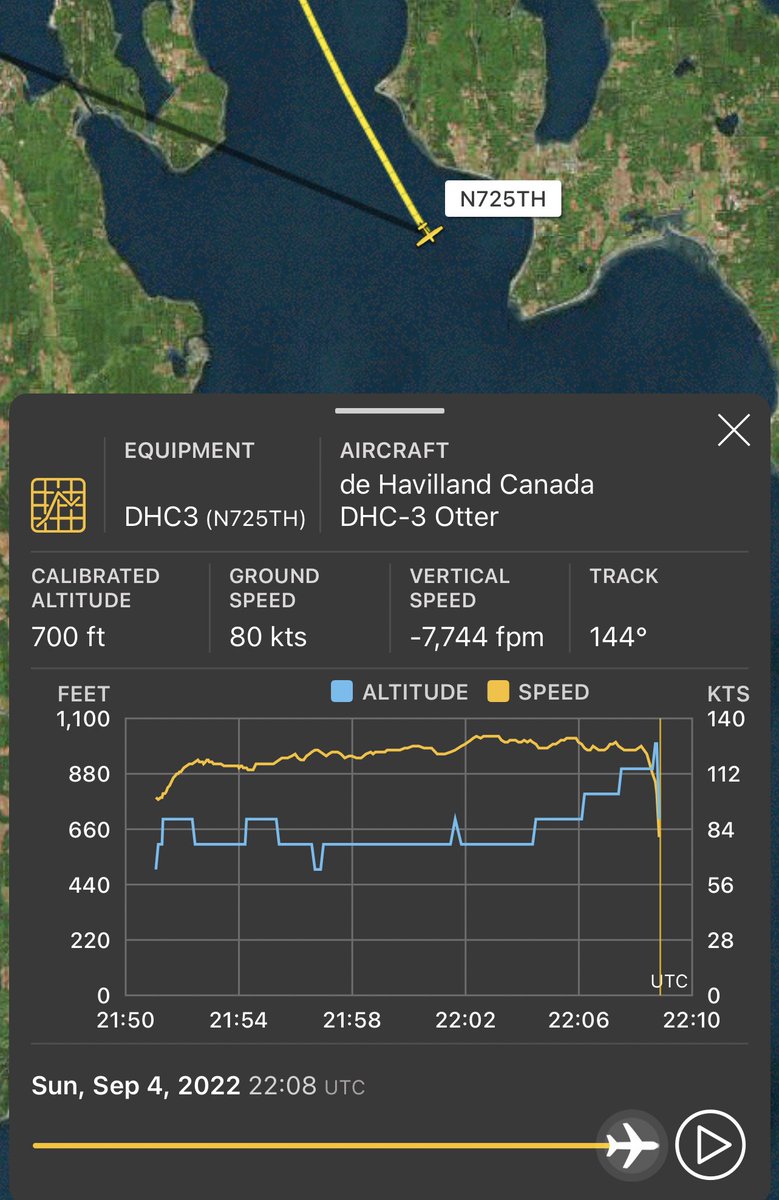 ---
23:10 UTC – The US Coast Guard has arrived on the scene and is now conducting a search of the Mutiny Bay crash site for any survivors.
The aircraft went down around 3.00pm local time. Initial 911 calls described an aircraft crash-landing nose first into the water. Meanwhile, some residents on Whidbey island, some miles away reported hearing a boom.
---
04:00 UTC – The US Coast Guard (USCG) has now confirmed that the body of one person has been recovered and nine still remain missing. The Coast Guard had originally stated the number of persons on board as nine, but has now corrected this number in a press statement, saying there were ten people including one child onboard the aircraft.
The seaplane was en route to Renton Municipal Airport after departing from Friday Harbor, not Seattle Tacoma International Airport as previously reported.
The recently issued statement from the USCG lists the following assets currently involved in the search:
Coast Guard Air Station Port Angeles MH-65 Dolphin rescue helicopter crew
87-foot Coast Guard Cutter Osprey and crew
87-foot Coast Guard Cutter Blue Shark and crew (en route)
Coast Guard Station Seattle 45-foot Response Boat-Medium crew
Coast Guard Station Port Angeles 45-foot RB-M crew
Coast Guard Air Station Sacramento C-27 aircraft and crew
Emergency responders from South Whidbey Fire, Island County Sheriff's Office and Snohomish County Sheriff's Office were also assisting in the search for survivors.
The cause of the crash remains unknown. The US National Weather Service show that conditions in the vicinity of the Mutiny Bay crash site were effectively VFR (Visual Flight Rules) conditions – scattered clouds with a visibility of 10 miles. No distress call was radioed by the aircraft, which had been flying at an altitude of approximately 700 feet.
07:00 UTC – With night falling in the Puget Sound area, USCG assets Osprey and Blue Shark will continue the search for survivors in darkness. Winds and currents have reported made the search difficult for responders. The aircraft has been confirmed as belonging to a charter operator – Northwest Seaplanes, according to a local Fox13 Seattle news report.
Updates
---
Monday 5 September
Search called off for survivors: The US Coast Guard have advised that they are suspending their active search for the remaining occupants of the crashed aircraft, effective from midday local time today.
A statement by the USCG Northwest reads: "The Coast Guard has suspended its active search for the remaining nine missing individuals effective at noon. Coast Guard assets completed 26 search sorties, covering 1,283 linear nautical miles and saturating an area of more than 2100 sq. nautical miles."
"All next of kin have been notified of this decision. Our hearts go out to the families, loved ones and friends of those who remain missing and the deceased."
It is understood that one person who had been aboard the seaplane was civil rights activist Sandy Williams, who had played a leading role in the development of a community center, the Carl Maxey Center, and a newspaper, "Black Lens" in Spokane, WA.
In a statement on their Facebook page, the Spokane County Human Rights Task Force said: "Together, with all of Spokane, we mourn the loss of Sandy Williams."
"Sandy was a voice for the voiceless, a tireless advocate for marginalized people in Spokane, a journalist unafraid to speak truth to power, a builder of hope in her vision for the Carl Maxey Center, and a beloved friend to countless members of our community. Our hearts go out to Sandy's family. While she may be gone, her legacy is assured."
Tuesday 6 September
Passenger list released by USCG: The Coast Guard has released the names of the passengers and crew of the sea plane that crashed into the waters of Mutiny Bay off Whidbey Island on Sunday afternoon.
Pilot: Jason Winters
Passengers:
Patricia Hicks
Sandra Williams
Lauren Hilty
Remy Mickel (minor)
Ross Mickel
Luke Ludwig
Rebecca Ludwig
Joanne Mera
Gabrielle Hanna
The deceased individual recovered from the water on Sunday night was transferred to the Island County coroner and has not yet been positively identified. It is Coast Guard policy not to release the names of the deceased or missing until at least 24 hours after the next of kin have been notified.
"The Coast Guard offers its deepest sympathies to those who lost a loved one in this tragedy," said Cmdr. Xochitl Castañeda, the Search and Rescue Mission Coordinator for this incident.
The National Transportation Safety Board (NTSB) is conducting an investigation into the accident.
Wednesday 7 September
The NTSB will shift its approach to the search after official search efforts were paused briefly today. Sonar equipment is to be deployed to search the sea floor when the search resumes on Thursday 8. A sonar equipped survey vessel will be used to continue this next phase of the search
Debris and items from the aircraft including a seat cushion, a seat belt, foam fragments of the plane, and some personal items have been recovered so far.
This is a continuing story. Please check back for updates.
[give_form id="15485″]